Reconnect from your managed ICT work station
Reconnect from your managed ICT work station
For reconnecting to the wired and wireless networks from your managed ICT work station (HvA-Basis or HvA-Persoonlijk) you need to follow the steps below.
Step 1: If you log into your managed ICT work station, a message will appear at the bottom right (see screenshot). Please click on it.

Step 2: Now a new window opens. Klik on 'Connect'.
Note: sometimes you have to do this twice.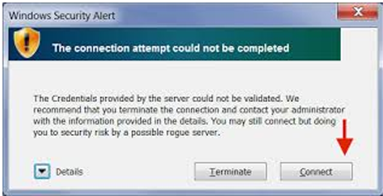 Step 3: You now have a temporary network connection to "hva" or "eduroam". Your computer processes the correct settings. Make sure you connect to this network at least for two hours, then the network is automatically set.