Study spot reservations
Need a study spot? Reserve it in advance!
AUAS offers a limited number of study spots at all locations. These study spots are primarily intended for students who do not have a suitable place to study off campus. The remaining study spots can be reserved by all students.
How do I reserve a study spot?
To reserve a study spot, click on the button below:
You can now log in to the reservation system using your AUAS ID. Next, follow the instructions in the system.
Cancel your study spot reservation on time if you can't make it. Then other students will be able to use the spot. This means that you need to cancel your reservation before midnight the day before your booking. This is required because the reception reviews a list of the reservations every morning.
What if I do not have a suitable place to study at home?
Do you need a study spot at AUAS? If you have issues such as a physical disability, trouble concentrating, or a home situation (family circumstances) that prevent you from studying effectively, please contact the student counsellor for your degree programme. With a demonstrable, legitimate reason, you will be given priority when reserving a study spot.
How does it work on location?
Check in with your student ID card at the main entrance of the building where you reserved your study spot. Report to the host and let them know that you have reserved a study spot. The host will check if you're on the list. Then, you can head to the floor where you reserved your study spot. All study spots have been marked with a sticker. We assume that you will spend most of the allotted time on the floor where the study spot is located, which will help us to maintain safe student traffic flows in the building.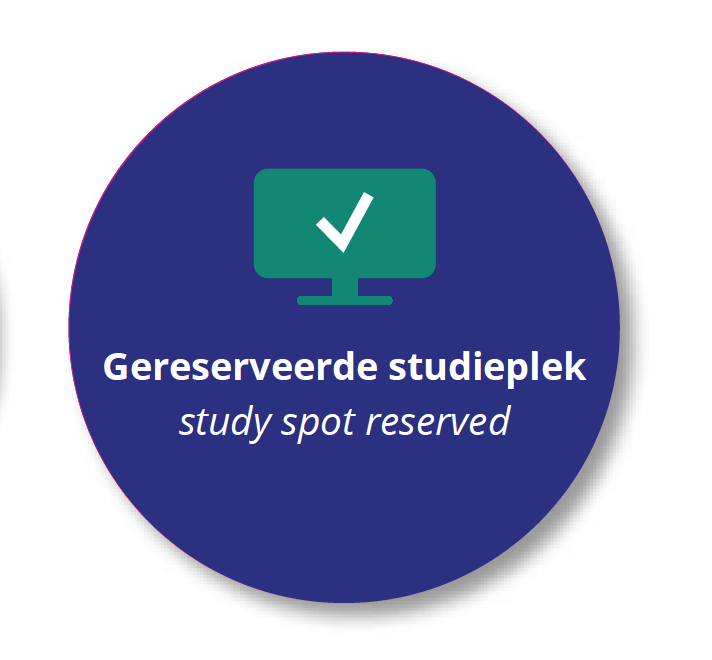 Reminders
Clean your study spot before you start studying. This way, you'll be certain it's clean. Afterwards, take your belongings and any rubbish with you. Don't forget to check out when you leave the building.
Important
You can reserve a study spot four times a week for four consecutive hours: from 9:00 to 13:00 and from 14:00 to 18:00.
You can make four reservations per week.
Study spots can be reserved up to one week in advance. Priority students can book two weeks in advance.
If you are going to request priority, please log in to the study spot reservation system ahead of time. This will allow us to process your request faster.
Reservations are student-specific and non-transferable.
No reservation = no study spot. This means that even if you are already at AUAS to attend classes, you still have to reserve a study spot.
Cancel your reservation if you will not be using the study spot after all. This way, other students can use the places that become available.