A-Z Students International Sports, Management and Business (ISMB)
Student Life in Amsterdam
Studying in Amsterdam is an unforgettable experience. Amsterdam and AUAS have a lot to offer!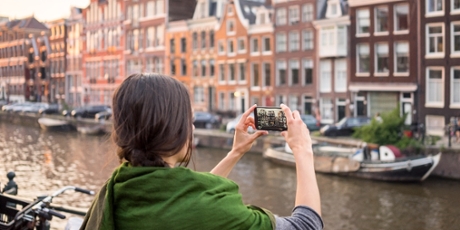 STUDYING AND LIVING IN AMSTERDAM
Amsterdam is one of the safest cities in the world and new students feel at home here very quickly. Amsterdam is very diverse - it's home to people from 181 nations and English is widely spoken. Student life in Amsterdam is very exciting and there is a lot to do. This page provides useful info and will introduce you to some cool activities:
Amsterdam University of Applied Sciences (AUAS) students are immersed in Amsterdam during their studies. When you study at AUAS Amsterdam the city is your classroom. AUAS students and lecturers work closely with countless sectors, companies and organisations in Amsterdam to come up with smart solutions to challenges facing our city. You will study at one of our four city campuses, each of which has its own distinct focus.
Read more information about AUAS
It's always nice to hear from other students firsthand about what their exchange experiences were like in Amsterdam at AUAS! Students from our Student Ambassador Programme have written blogs about student life here in Amsterdam. For example, Ege wrote about Dutch culture and Christian shares his thoughts on the best of Dutch food!
Check out the exchange student blogs
Want to say fit during your studies? There are countless opportunities to do fun sport activities in Amsterdam! You can go to your local tennis club or go for a run in city's many beautiful parks. AUAS has its own University Sports Center as well with multiple gyms and sports to choose from. From soccer to bootcamp, from dodgeball to yoga: choose your favourite way to stay active!
See more information about our University Sport Centre
Amsterdam's cultural offering is amazing. From world renowned museums to hundreds of annual festivals: there are activities for everyone! There are too many cool options to put on this site, but we recommend you ask other students for tips and you will see there is much to do here. AUAS also has its own cultural hub with many cool courses available to you at discounted prices.
View all activities from our cultural hub CREA
It might be interesting to join a student association or take part in some activities. The student association catering to exchange students in Amsterdam is called ESN Amsterdam. They organise an introduction week and many other activities in Amsterdam and even trips to other European cities! They also have a buddy system so you can meet Dutch people as well and mingle with locals.
Read more about ESN Amsterdam and see all activities
If you want to learn Dutch there are many options you can choose from. You can take a crash 'survival' course, a beginners programme or even more advanced multiweek courses at A1 level.
Ask the International Office of your faculty for all options or read about the ISN 12 week Dutch course here.