A-Z Students Trade Management Asia
Study spot reservations
Need a study spot? Reserve it in advance!
The relaxation of the corona measures announced on 20 April also affects the study spots in the AUAS locations, which will all be open from 28 April. Reservations can be made directly via shifts.mapiq.com.
How do I reserve a study spot?
Do you need a study spot at the AUAS? All buildings are open and all have a (limited) number of study spots available. Book a study spot directly vai shifts.mapiq.com . For this you need an account, which you can create in shifs.mapiq.com. If you already have an account, you don't have to create it again.
From 31 May you can
book two spots per week.
book a study spot or a collaborative work spot. A collaborative work place is not the same as a study spot. At a collaborative work place you can work together with a maximum of three students. These students don't have to reserve a collaborative seat themselves.
book one week in advances.
book on the day you need a place.
cancel on the same day as your reservation is.
Cancel your study spot reservation on time if you can't make it. Then other students will be able to use the spot. This means that you need to cancel your reservation before midnight the day before your booking.
How does it work on location?
Check in with your student ID card at the main entrance of LWB. Report to the host and show them your reservation (on your mobile or printed out). The host will indicate on which floor you can study. All study spots have been marked with a sticker. We assume that you will spend most of the allotted time on the floor where the study spot is located.
Do you already have a the study spot via your student counsellor?
Then you book a study spot in the same way via Office Shifts. You can book study spots five days a week. In most buildings study spots are available.
Do you need other facilities or customisation?
Do you need other facilities or customised services due to personal circumstances? Please contact the student counsellor serving your degree programme.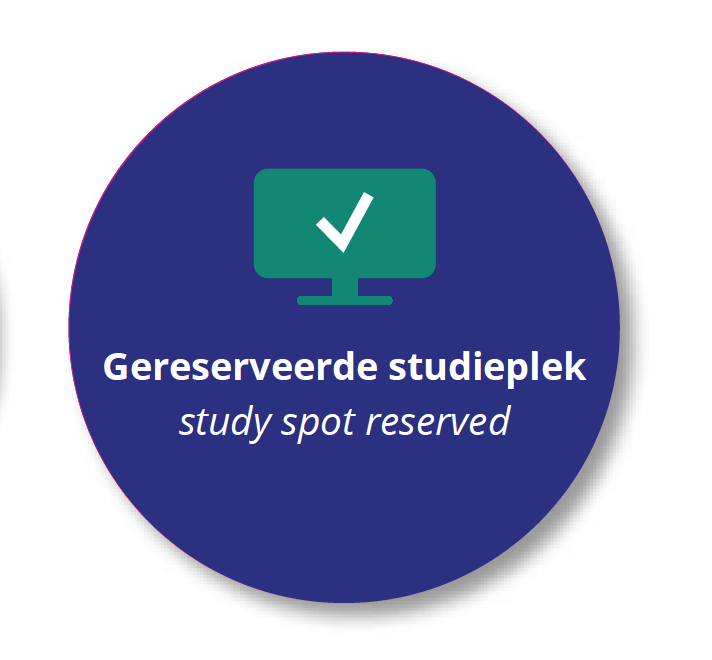 Reminders
Clean your study spot before you start studying. This way, you'll be certain it's clean. Afterwards, take your belongings and any rubbish with you. Don't forget to check out when you leave the building.
Important
You can make two reservations per week for a single study spot or a collaborative work place.
You can book one week in advance.
Reservations are student-specific and non-transferable.
No reservation = no study spot.