A-Z Students Amsterdam Fashion Institute
AMFI Sewing Room
The AMFI sewing room is located on the third floor of Koetsier Montaignehuis (room 3.10).
Opening hours of the sewing room are 08:00 to 19:30 on Mondays to Thursdays, and 08:00 to 17:30 on Fridays. You are always welcome to use the sewing room, but ask the lecturer for permission if a class is being held.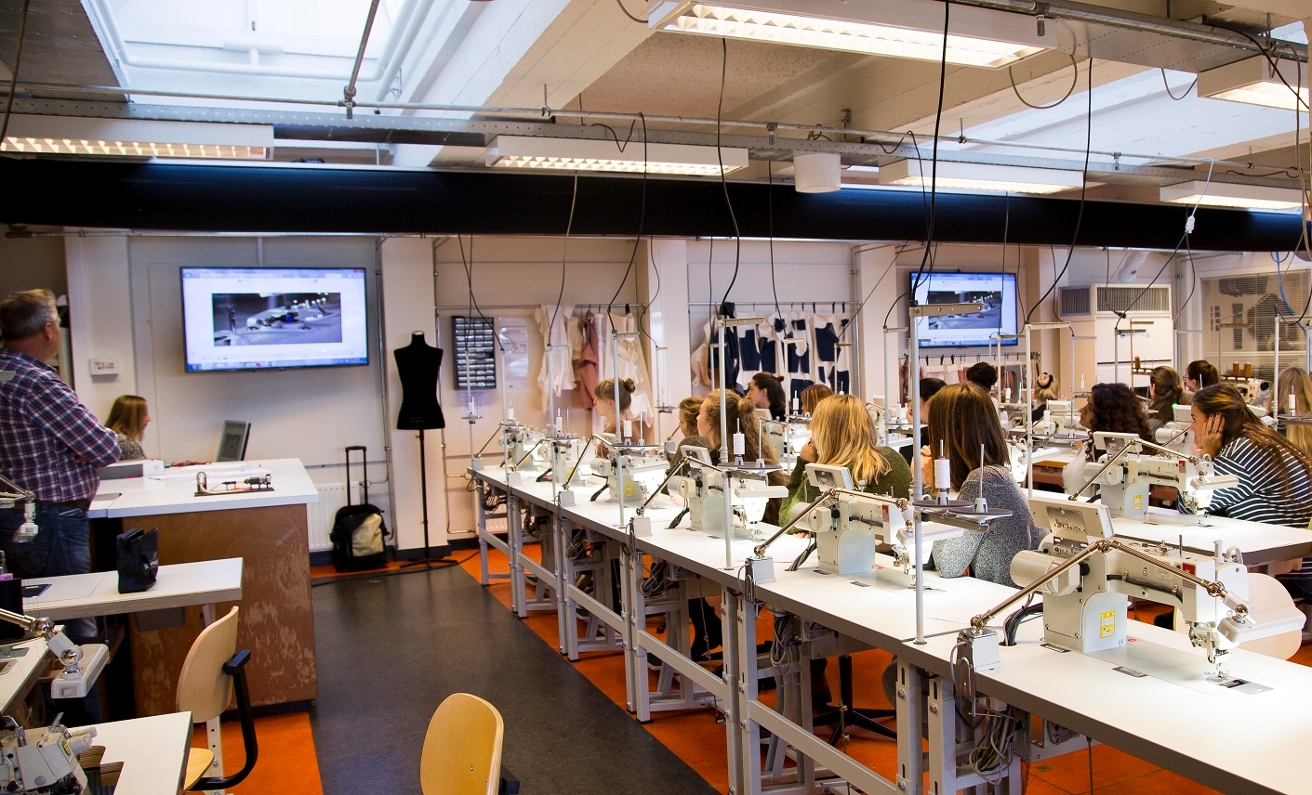 To ensure that everyone is able to get the most out of the sewing room, the following House Rules apply:
Do not eat or drink in the sewing room.
Do not discard paper, waste or thread onto the floor, but use the waste-paper basket provided.
Do not place bags or coats on the sewing machines or cutting tables or leave them on the floor. Place them underneath the cutting table.
Textile weights may only be used inside the sewing room.
Do not use felt-tip pens or glue on the cutting table or sewing machine table.
Do not use adhesive tape to indicate seam widths on the sewing machine. You can find aids for this such as magnets at the AMFI store.
Bring your own spool housing and bobbins as these will no longer be provided in the sewing room and can only be bought at the AMFI store.
If you wish to use a machine that you are unfamiliar with, ask Wilna, Mireille or John to explain it first.
Do not move the chairs placed behind the sewing machines around the sewing room, but leave them where they are.
Do not leave mannequins in the sewing room, but return them (to their designated storage locations).
If a needle breaks while you are using a machine, you must replace it and not simply move to another machine.
Hammer in aglets, snaps and rivets on the table at the rear of the sewing room with a block of wood placed under the garment, and not on the cutting table or sewing machine table.
Return bobbins of thread to the thread cabinet when you are finished using the sewing machine.
Clear away all waste when leaving the sewing room.
Never cut with a knife directly on the tables. Always use a cutting mat, which you can get from Wilna, Mireille or John.